Engine and Braking torque deflects leaf springs,
causing axle hop and traction loss.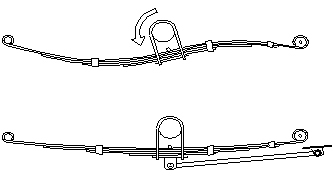 Traction-Masters™ eliminate leaf spring wrap up.
The dual pivots still allow normal leaf spring up and down movement.
Leaf springs perform 2 basic functions:

1> Carries the weight of the car.
2> Locates the axle as control arm

Leaf springs work reliably well, but are bad as control arms. Hard acceleration or braking causes the springs to twist and "wrap up" which changes the axle position. Traction is lost and also causes additional wear on "U" joints, the leaf spring, shock absorbers, and suspension bushings.

Traction-Masters™ allow the leaf to act as a spring, but relieves it's axle-locating responsibilities. Traction is improved and equalized, and you will also find a noticeable improvement in braking.

Conventional "Slapper type" bars only work during acceleration and rely on the binding up of the rear suspension to function. Slapper bars can also degrade handling and have no effect on brakings.